IKAN– an award-winning designer, manufacturer and distributor of professional video, film, and broadcast production equipment. Today Ikan offers more than a thousand products tailored to the needs of those engaged in motion picture production, broadcast endeavors, and still photography at all levels of proficiency – from beginners to aspiring practitioners to industry pros. In addition to high-quality video monitors, the company has a full range of lighting equipment, camera support and stabilization systems, teleprompters, and accessories for both studio and field production.   
EXPOIMAGING Inc., markets, designs, manufactures and distributes unique and innovative camera accessories to the photographic market, and is the pioneer in digital white balance filters. It is the exclusive worldwide distributor of Rogue FlashBenders Shapeable Light Modifiers, ExpoDisc Professional White Balance Filter and ExpoAperture2 Depth-of-Field Guide. ExpoImaging is also the exclusive U.S. distributor of Ray Flash 2 Ring Flash Adapters and CapBuckle Lens Cap Holders.
LAOWA – VENUS OPTICS – Anhui ChangGeng Optics Technology Company Limited (Venus Optics) is a new Chinese camera lens manufacturer based in Hefei, Anhui. We currently manufacture and distribute camera lenses under the brand name of 'Laowa'.
SUPERIOR SPECIALTIES-Superior Specialties has been producing Seamless Backgrou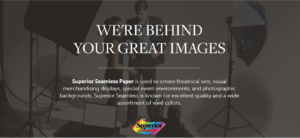 nd Papers for the photographic and display industries for over 50 years.Superior has established a standard of quality which has allowed us to become the leading seamless paper supplier throughout the world.
SIRUI USA manufactures a full range of professional photographic and video support equipment, camera bags, dehumidifying cabinets, filters and mobile accessories. SIRUI's diverse, international engineering group, combined with their industry leading Research and Development Department, has made SIRUI an expert manufacturer in the field of Forging Technology. Stringent Quality Control standards have been placed into every segment of manufacturing helping to make SIRUI a leading brand of photographic and video support equipment.
PromarkBRANDS is the leading MANUFACTURER of equipment and accessories for photography, videography, and digital imaging. PromarkBRANDS other brands include Cool-Lux, Dot Line, Logan, Norman, Photogenic, Photoflex, Quantum Instruments, Radiopopper, Smith-Victor, and Speedotron. PromarkBRANDS is a company deeply steeped in a tradition of support for their dealers. Every product they offer takes your bottom line into account. At the same time, we're committed to keeping pace with technology and marketing trends.
MACK WORLDWIDE WARRANTY-Mack Worldwide Warranty revolutionized the repair industry in 1938 by opening an establishment that provided quality service, solid repairs, skillful efficiency and eventually, well-backed warranties. As a growing brand, we became one of the first authorized warranty repair services for major manufacturers like Sony, JVC, and Canon, a service we continually satisfy to this day.
By offering Extended Warranties (through our highly skilled technicians), we offer international repair service and coverage. Although originally designed to extend the OEM warranty, our program was later revamped with more warranties that offer coverage for almost everything- accidental damage, impact damage, unintentional abuse and much more for just about everything you purchase.